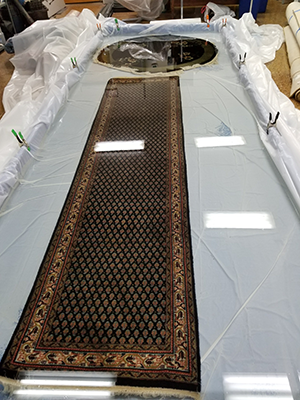 Not all oriental rug cleanings are the same. Oriental rug cleaning takes experience and education to be able to tell the difference between a fine, hand-made rug, a valuable machine-made rug and some of the less valuable alternatives. It also takes experience to know how a custom-made rug may respond to cleaning.
Owner Bob Louv is certified by the IIRCC in commercial and residential carpet repair and reinstallation. Bob has also been trained in oriental rug cleaning and restoration.
All American Carpet & Upholstery Care has over 20 years of training and experience in oriental rug cleaning and area rug cleaning. If you have a tough stain or odor let us take a look at it. In most cases we are able to restore rugs that have been contaminated by pet urine or other materials.
For more information about our oriental and area rug cleaning services call (215) 348-7323 or contact us today!